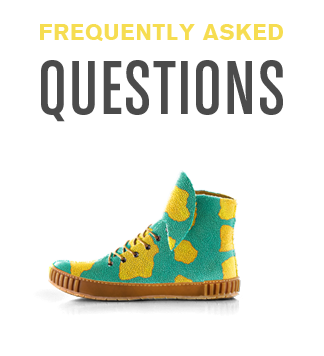 You design your ray, and we breed it for you. It's as simple as that. With our online design tool, you can combine existing natural patterns and colors into a original style that's all your own. Once your Rayfish are fully grown, we turn them into an unique pair of sneakers.
One fish, one shoe.
Stingray leather, also called shagreen, has been prized for centuries for its beauty and durability. It has been used for furniture, fashion, even sword grips and armor. Shagreen is currently undergoing a revival as a luxury material. All Rayfish Footwear leather is produced from humanely raised stingrays at our Thai aquaculture facility.
Each shoe we produce is made from a single, one-of-a-kind stingray. Using our database of genes for coloration and patterning, we are able to offer an almost unlimited variety of designs for your bio-customized stingray.
Rayfish Footwear uses a library of coloration and patterning genes from dozens of species.
Due to the limitations of our bio-customization process, we are not able to produce logos, letters or other designs not found in nature.
Rayfish Footwear harnesses nature's beauty and variety to create truly custom footwear.
Our patented process of bio-customization allows you to design your own living, transgenic stingray. Using our genetic library, you can select and combine skin patterns and colorations from dozens of species, producing a nearly infinite variety of shoe designs. First came mass production, then mass customization. Bio-customization is the next step.
Nature has already done the design work for us. All we have to do is identify the genes responsible for coloration and patterning, and then implant the 'supergene' cluster into fetal rays before they are born. As the ray grows over the course of several months, it gradually expresses the predetermined patterns on its skin.
How about winning a pair for free? Take part in our Rayfish Footwear design contest, and your design just might be chosen as a winner. Once regular production begins in 2012, a pair of Rayfish shoes will cost approximately $1,800.
We are able to accommodate a limited amount of serious inquiries. The production cost of a pair of Rayfish sneakers is between $14,800 and $16,200. This price includes custom genetic manipulation, growing your shoes to maturity, and shipping them to any address on the planet.
With a nutrient-rich diet and carefully controlled lighting system, Rayfish Footwear is able to produce a 'shoe-sized' ray within six to eight months. After this, the leather is processed and handcrafted into a exclusive pair of Rayfish sneakers. You should receive your custom shoes within ten months of ordering.
Due to copyright concerns, we cannot shop live rays at the moment. Our stingrays don't like traveling much either!
All Rayfish stingrays are produced in our state-of-the-art aquaculture facility in Thailand.
At Rayfish Footwear, we raise our stingrays in specially modified aquaculture tanks that mimic their natural environment. Raising our rays in comfortable conditions guarantees the most accurate, vibrant expression of their genetics. Rayfish rays are fed a healthy diet of marine worms, which are abundant in the wild and harvested with sustainable techniques. With Rayfish Footwear, you can be assured that your shoes are as eco-friendly as they are fashion-forward.
In the wild, many species of stingray and shark suffer from over- harvesting for their leather. All rays in our facility are captive-bred, and exert no pressure on wild populations. Rayfish Footwear is committed to the preservation of our natural environment. Let the wild rays roam free!